Learn the latest skills
According to TALIS measurement the most appreciated values for teachers is efficacy. Coaching style for teachers training for the 21st century schools and education will support mindset for collective efficacy in schools (Fullan, 2018). Coaching competences are needed when educational specialists talk about 21st century skills. Therefore, the main focus of the Coaching strategies for schools – turn change into long lasting benefits course is to support organization staff achieve higher level of coaching competences for the class: active listening, activate students learning, empowerment of students and engaging students. Furthermore, participating teachers, head teachers and teacher coachers will gain insight into concepts and tools of coaching programs and models in order to become familiar with the coaching process to support learning methodologies for 21st century, to support stretching skills and develop self-regulation for students, develop mindset for growth: mindfulness, mental habits for inclusion and SEL, and much more.
The added value of the course is that it reinforces networking as a mechanism for KA1, KA2 and eTwinning partner finding opportunities.


Upskill your organization
Target group are the school management, teachers, special education teachers and all other non-teaching experts and staff working in school education, adult education and VET.
The course covers a wide range of topics.
During the spring edition – coaching competences to support Professional Development of Teachers:
Participants will develop coaching competencies for the class : active listening, activate students learning, empowerment of the students, engaging students
Using Questioning Model for Phenomena Based Learning and New Pedagogies
Using norms for class engagement and a context for wellbeing and improves learning outcomes
Learn how to Plan and SET Goals, planning for short term and long term
Manage Progress and Responsibility of the learner ( students as change agents)
Practice coaching model and become familiar with the coaching process to support learning methodologies for the 2st century
Coaching tools to support stretching skills, develop self regulation for students and for teacher-student relation
Best practices coaching in Finnish Schools
Schools vision/values for wellbeing education and performance education
Social Emotional Learning ( Drama in the Class) tools to support SEL in teachers and for students
Systemic Process for Teachers meetings, parents, self organization of students in the class ( Systemic Coaching for Class and School Development)
Empowerment and scaffolding, keep performing and transforming learning in your school
Feedforward as supporting formative assessment
Mindset for growth: mindfulness, mental habits for inclusion and SEL
During the fall edition - Focus on Coaching Strategies and Tools for Team Teaching, Supporting Phenomenon Based learning:
Support a culture of change in your school for schools as learning based organizations
Empower teachers (and students) for learning together
Ensure wellbeing in your school environment
Develop and use active listening and autonomy to build the setting for self assessment and formative assessment
Team teaching for holistic approach to learning and curriculum, building up coaching competences pre-requisites
Group dynamics, support change at different levels especially group level for long lasting benefits (systemic approach)
Coaching for new learning ways and environments ( learning in new school ergonomics, with digitalization and new assistive technologies
Support measurable and traceable skills for teachers professional development ( coaching competences according to ICF standards)
Systemic delegated process and support teachers decision capital as school culture
The course methodology aspires creating an output. Working individually or in groups on a concrete product to be used in your own school. In order to consolidate a quality course, it integrates the experimental training learn by doing approach , individual and group exercises for self evaluation Systemic Approach & Solution Focused model for learning, learning partner / peer coaching, supervised coaching sessions, demonstration, invited speakers and thematic workshops ( demonstrations from Finnish schools, teachers' coachers) and other. Participants are asked to come prepared with real class challenges they want to solve during the program, aspirations and / or ambitions and they commit themselves with everyday tasks and self- learning tools.
Earn a certificate
The course participants will get a Certificate of Active Attendance.
The competences acquired will be validated by the course organisers on the Europass mobility.
What makes Euneos the leading course provider in Europe?
Euneos consistently has regards to challenges and retaliates by offering multiple options for quality courses to its clients following the Quality Standards for courses under Key Action 1 as required by the European Commission.


On-site & blended courses
Coaching strategies for schools – Turn Challenging Learning on-site courses take place in Helsinki, Vantaa. Blended courses are also an option and the fee paid for the lead-in course taken prior to the on-site course will be deducted from the course fee. Coaching strategies for schools – Turn Challenging Learning are 7 day courses that start on Sunday afternoon and end on Saturday at 13:00 o'clock.
Distant education is one of the first priorities of Erasmus+ programme. Euneos Corp. sees blended courses as an opportunity to promote distant education. Due to the COVID 19 pandemic, we may implement Erasmus + KA1 courses as blended courses, which can include an online portion to replace on-site training. This is in accordance with the rules of Erasmus+ programme 2021-2027. "In addition to physical mobility, all staff mobility activities can be blended with virtual activities." (Erasmus+ Guide 2021, p. 95)
> planned courses
CONFIRMED 20 – 26 March 2022, Helsinki/Vantaa Finland - FULL
2 – 8 October 2022, Helsinki/Vantaa Finland.
1 – 7 October 2023, Helsinki/Vantaa Finland.


Euneos has an international team of trainers who are the most experienced in the field of their expertise. Meet Euneos' trainers for the Coaching for schools - Turn Challenging Learning course:
Main organiser / trainer

Andreea Gatman
Certified ICF Coach& Team Coach,
Certified Trainer,
MBA in Public Governance MODUL University Vienna,
MES Graz University,
She has an international experience in European projects for over 16 years. She has been an EUNEOS trainer since 2016, organizing the courses like Best Practices Benchmarking, Integrated Curriculum, Coaching Strategies for Schools and new courses like School Development together with Forum Schule Germany, Education Innovation- New Learning Environments and Leadership- Embodiment practices.
Guests: Special Education Teachers & School Counselors, Certified Coach, Artists & Mindfulness for Schools Experts
Euneos choice of venues is based on two essentials: delivering professionalism and assuring personal well-being in order to warrant enjoyable course experience.
Helsinki, Finland
While in Helsinki, make sure you plan visits to cultural situated places that would help grasp on social innovation: libraries as social innovation in Finnish education, interactive museums, the islands around Helsinki or the sauna. Moreover, there are many more attractions that promise unforgettable experience in Helsinki such as the interesting Helsinki architecture including Alvar Aalto's studio, Helsinki Cathedral by Carl Ludvig Engel, Senate Square, Old Market Hall, Löyly sauna and restaurant. While there, make the best of this unique opportunity and take a bite of the Finnish delicacies such as smoked salmon soup lohikeitto and dried reindeer meet kuivaliha. Do not forget to learn more about the famous Finnish culture of drinking coffee with a soft, toasty and aromatic pulla cardamom bread. Tervetuloa!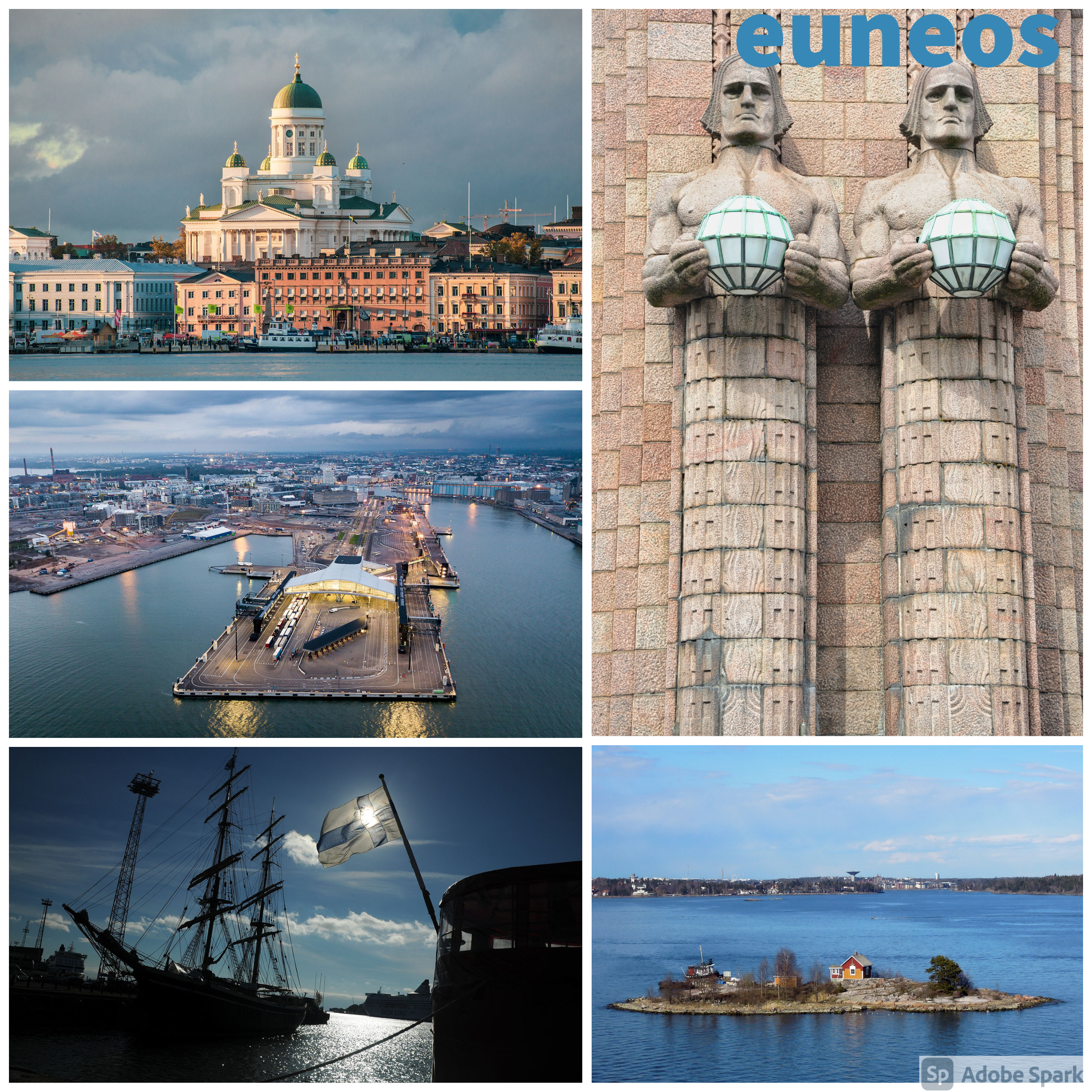 Video testimony from participants in Coaching Course Helsinki