Course Venues


Euneos choice of venues is based on two essentials: delivering professionalism and assuring personal well-being in order to warrant enjoyable course experience.


Ivalo/Lapland
, Finland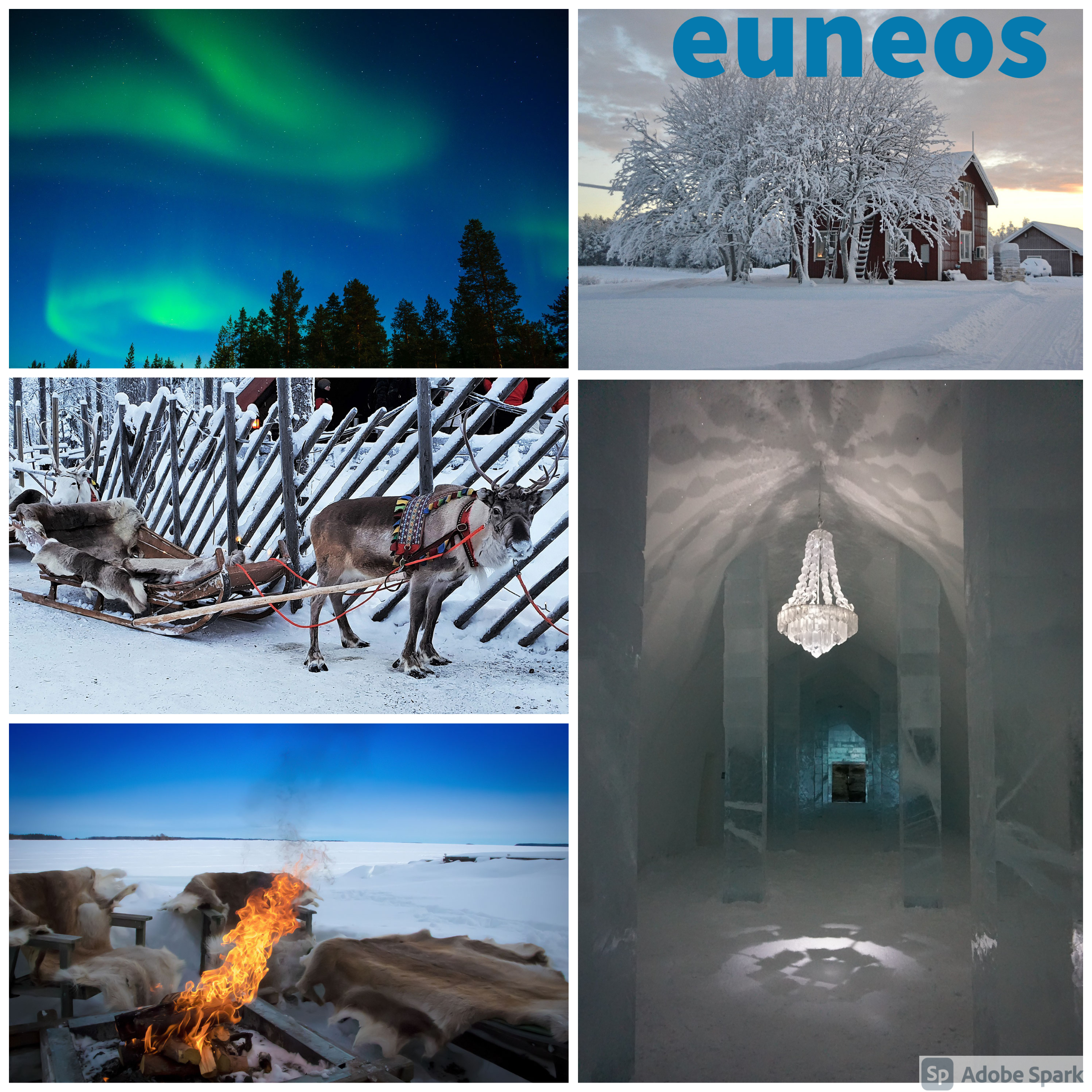 Description
When in Ivalo, have the best authentic experience of the north by going on a 'polar' safari. Time to be adventurous and go on an aurora hunting tour, ice fish in lake Inari, join a snowmobile safari, husky safari, reindeer safaris or snow shoe-hikes. Which ever you opt for, be ready to be mesmerized by the dancing lights of the Aurora Borealis on the northern sky as well as the endless, enchanting white scenery in winter. In summer time, make most of the long days and enjoy polar life summer.
Course Venue
The course venue is at Hotel Kultahippu, located at Petsamontie 1 99800 Ivalo, Finland. Kultahippu means a 'nugget of gold' so it's like a small treasure in the far of north. It has a good location - close to the airport, with good transport connections, in the middle of the village of Ivalo, close to all services. Daily flights, bus and train routes to Ivalo guarantee a pleasant journey almost to your destination. There is a restaurant on site for coffee breaks, also offering delicious lunch buffet.
Accommodation
The course will take place at Hotel Kultahippu.
Hotel Kultahippu
Petsamontie 1
99800 Ivalo, Finland
Sales & reception
+358 16 320 8800
Connections
Nearest domestic airport is Ivalo Airpot. Finnair flies from Helsinki to Ivalo all year round. Norwegian airlines fly between Helsinki and Ivalo during the winter season.
There are bus connections from Ivalo airport to Ivalo and nearby hotels.
You can also make a private reservation for an airport transfer to Hotel Kultahippu or other hotels by taxi or buses for larger groups. Venue & accommodation:
Finnair flights from Hki - Ivalo - Hki.
https://www.finnair.com/fi-fi/kohteet/eurooppa/suomi/ivalo?gclid=CjwKCAjw3POhBhBQEiwAqTCuBvh44WtJ3WB-IaMzorexhKnEliqzX_qsXHy31YBd5NU8v6WnLUHgcRoCSSkQAvD_BwE&gclsrc=aw.ds
Finnair flies only one flight per day from Helsinki airport, and is the only company flying that route. Therefore please start by checking and booking the flights first.
Another option is to use the direct flight to Rovaniemi airport and then take a bus from there to Ivalo in Inari municipality.
Here are some optional bus company links, search words : Rovaniemi - Ivalo
Onnibus
https://www.onnibus.com/rovaniemelta-ivaloon-edullisesti-bussilla?campaignid=OULUROVA&utm_source=cpc&gclid=EAIaIQobChMI4s-eyeS4gQMVS1WRBR2fbwG5EAAYAiAAEgKO3fD_BwE
https://www.onnibus.com/matkan-valinta#!/search-ROVA,IVAL,07.10.2023,15.10.2023,1,,
Eskelisen linjat
https://www.eskelisen.fi/en/timetables-and-routes/
Matkahuolto
https://liput.matkahuolto.fi/connectionlist?lang=en&departurePlaceId=p472&arrivalPlaceId=p2120&departureDate=2023-10-07&returnDate=2023-10-15#breadcrumb
Travelling by bus will take more time, but you will get to see the vast areas of Lapland on that route, so it will be more of an adventure! Remember that you may use both weekend days for travelling if needed.
Catering options
You have your KA1 grant budget for your accommodation including meals. There is a restaurant on the premises and Monday to Friday offering lunch buffet. The courses will include time for relaxing coffee breaks, tea and special moments for cultural exchange. You are welcome to share something from your own country and culture.
Healthcare services contact:
Terveyskeskus (European health insurance card will be needed for this service)
Terveystalo (Private)
This is a unique opportunity to spot the Northern Lights or enjoy midsummer in Lapland. We warmly recommend that you visit Siida - Sami Museum and Nature Center and the Sami cultural Centre Sajos learn more about Sami culture. An exciting experience are a number of Reindeer farms that you can visit or many other private and custom tours or enjoy the picturesque nature with a number of outdoor activities. If you like new and unique food experiences you can opt for traditional Sami dinner, reindeer specialties, mushroom and fish dishes or go on safari and catch your own king crab. from the Barents Sea. After a 3 hour drive you will reach Rovaniemi, also known as the official hometown of Santa Claus where you can meet Santa in person. We also recommend that you spend one night of your trip in the Snow Hotel or Igloo, it is an unforgettable experience. Tervetuloa!